It has been a little bit over a year now since we started Dogs Matter and so much has happened since then: Partnerships between humans and dogs have evolved and new friendships been made. We were lucky to host some of the most innovative and inspiring personalities in dog training in the UK and we have received amazing amounts of support from friends and trainees. But most importantly, we had the honour of being part of so many training journeys over the last year. There have been so many personal successes in all walks of dog training and we are incredibly grateful for having shared these experiences with each and every one of our students. We would like to take this opportunity to look back to the beginnings of Dogs Matter. We would like to share some thoughts about why we started and why now, one year later, we are incredibly proud of what Dogs Matter has become.
When we thought about a name for our training business we considered lots of different options. I won't bore you with all the details of the process, but there was one idea that we always came back to when we thought about what training dogs really means to us: We believe that dogs have and amazingly positive impact on our lives. They support us, and inspire us to keep going, even when we feel like the world is coming down on us. But they also make the good moments even better, by adding their little (and large) personalities into our lives.
Over thousands of years humans developed this special relationship with dogs that is hardly matched by any other species. The roles that dogs play in our lives have changed quite a lot. From early cohabitation of humans and dogs that is believed to be a key aspect of the evolutionary success of humans(!), over working dogs that have helped us hunt for food and guard our families, to the point where we just enjoy their company as pets; dogs have always been there at our side… and they have always mattered!
This is why when we started Dogs Matter a year ago we wanted to provide training that above all focuses on the dog-human relationship. We never wanted to just train somebody's dog for them, or provide them with a blue-print for training success. It was always our intention to empower people to take ownership of their training and thus taking ownership of the relationship with their dog. Because we believe that this is what dog training is all about – it's not about winning that red ribbon, but about feeling that connection with our dogs; becoming a team and working in partnership – be it in Competitive Obedience, Agility, or within our day to day lives.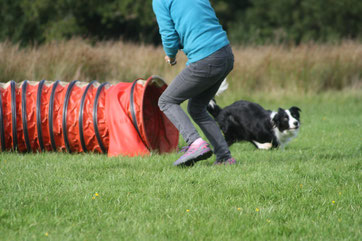 Over the past year we have been part of so many different training journeys. We always try to make the relationship with our students as cooperative as possible and taking their needs and preferences into account. Because of that we always encourage our students to make choices about where they want to take their training and what they want to achieve. Our job then is to provide them with the skills and the knowledge that they need to follow up on these decisions and develop their training. In some cases this has taken our students to competitive success in a variety of disciplines. In other cases it has enabled students to build a trusting relationship with a dog that they rescued. In every case we have been incredibly proud to see them actively engage with their training and develop the positive relationships they have with their dog. Seeing both humans and dogs grow in confidence as a result of their partnership is an absolutely incredible feeling. And to see how their partnership inspires others to engage with their dog in a similar fashion is just pure bliss. We are just so lucky to have witnessed exactly these moments of inspiration (sometimes disguised as healthy competition!) between our students on several occasions throughout the last year. Thank you all for being such amazing, inspiring and supportive students. 
We are incredibly proud to have been a part of so many incredible dog training journeys over the last year. 2015 has been absolutely incredible and we couldn't have wished for any more. We hope that we will be able to keep working with all of our amazing students in 2016 and are also looking forward to welcoming many more. You and your canine partners are the living proof that dogs really do matter!